Race Night Tote
There are lots of ways that you can organise the tote for your race nite. Here are racenight.me.uk we provide every conceivable option that you may require.
Our best and latest option for racenight tote is the Easy Tote System. This is a fully automated computer tote system. The system does everything for you and runs out of the box. It offers our customers an unrivalled level of professionalism never see before in the DIY racenight business.
The second option is racenight tote tickets. This is the option that most of our competitors supply and we also offer these as an option to client who prefer these because of familiarity and you can buy these directly from here Tote Tickets. Our tote tickets look like this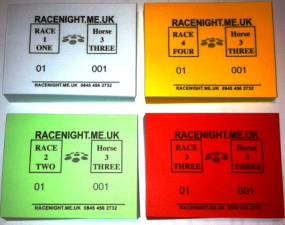 The next option is betting slips. This is our preferred option for the tote as it is just like going to the bookmakers and placing a bet on a race. Using this option punters can also place multiple bets on one ticket. The betting slips are 2 part NCR sets and are security coded to ensure that your tote is secure. You can order your Betting Slips Here. When you use this system you can also make use of the easy tote calculator, which is a free download from our website.
So whatever race night tote betting your are looking for we have it all at racenight.me.uk. If you have any questions or concerns about the tote or it's operation just give us a call at the office and we will be more than happy to help.