Race Night Tote Tickets
We know that some of our clients already have their own films and are just looking for tote tickets. We we can supply tickets in a range of quantities from 100 tickets per runner per race.
Our tote tickets look like this..... Order Tote Tickets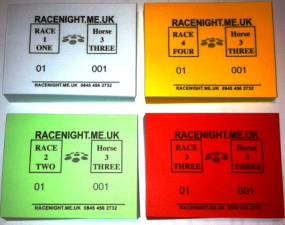 They are numbered from 1 to 8 runners and from Races 1 to 8. Therefore if you order up pads of 100 you will receive 6400 tickets in total.
You may prefer to use our usual betting slips for your event to give it a more realistic feel, just like going to the book makers. These are two part NCR sets just like the real thing!
Or you may want to consider the easy tote system! The ultimate in racenight betting. A very simple system that does all of the betting for you an allows you to have each of your horses named on each of the betting slips. Only available Racenight.me.uk for more details press Easy Tote System now!