Pig Races - For A Different Racenight
New for digitally re- mastered pig races.
We are delighted to announce some exclusive pig races for your racenight entertainment.
These hilarious little porkers even have little jockeys to keep them in check.
Each pig is called by number and not by name which means that you can name the pigs anything you like in your race card. We are the only UK company to supply live pig races like this.
Each pig race has a form guide which tells you a little bit of the recent form of the pig and give you a feel if you have invested your money wisely. Press the form guide below to see an example of what the form guides look like.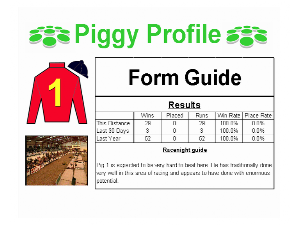 Then it's onto the races and straight into the pig racing action! We offer multiple camera angles so you get right in with the pigs and at the end of each race we have slow motion replay of the stages of the race so you can see exactly what happened to your investment! To see an example of the actual race footage please press either of the pictures below.
So if you are looking for a different twist to your race night and for something a bit special look no further than our all new pig racing racenight.