Film For A Race Night Demo Page
We like our customers to see what they are getting for their money so here are a couple of short demo clips taken from the actual films for a race night you would receive.
New Pig Racing Films
Each of the pig races includes 8 runners all call by number and not name, a preamble and form guide so you have an idea of how each pig has performed in its past races and a slow motion replay at the end so you can see how you list your money! These races make a great addition to a standard package or work well as a race night with a difference.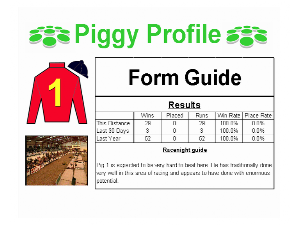 Download
Windows Media file - Form Guides
Windows Media file - Race example
New Film Stock Demo
This film stock includes commentary from Mark Johnson. Mark regularly commentates for all of the major channels, and has done a excellent job of bringing each of these races to life.
Each of these films for a race night includes a preamble to the race that allows your client to hear how their horse has performed previously and some inside tips that he has heard from the trainers!
Each of these films use multiple cameras so you are always right in with the action.
All of the races are from English courses and we have a selection of jump and flat races.
Flat Race
Download
Example of preamble at the start of each race
Old Film Stock Demo
This is a sample of our old film stock. If you are looking to impress your punters we recommend you use new film stock, but if you are running to a tight budget then this maybe the choice for you.
Download